]The Hollister Motorcycle Rally has its beginnings in 1947, believed to be the event that gave birth to the idea of the "American Biker" and was the inspiration for the powerfully famous 1953 cult classic movie, "The Wild One," starring Marlon Brando and Lee Marvin. The cast, adorned in leather jackets, introduced hipster biker phrases to movie audiences and defined biker fashion for decades to come. The movie is considered a cultural milestone and motorcycle enthusiasts return to Hollister every 4th of July weekend to celebrate this cultural icon.
The centerpiece of the Independence Rally is San Benito Street in downtown Hollister. The rally features stunning motorcycles, live music, vendors selling motorcycle gear, gloves, helmets, leathers, ride pins, t-shirts and hundreds of other products intended to be attractive to the American Biker. You will find everything related to motorcycles and people of all types – most of them fully clothed, some not.
More than 90 vendors slated to be here offering all things biker, as well as a wide variety of food and beverages. The 2017 Hollister Motorcycle Rally features celebrity host Eric Estrada — he will be at the rally on Friday, June 30th.
Hollister Motorcycle Rally Entertainment
This year you can expect to find this kind of entertainment lining up along San Benito Street in Hollister:
SKYNNYN LYNNYRD
Friday 7-9 PM Main Stage
Southern rock band Skynnyn Lynnyrd will be taking the main stage along with Lucky Tongue and Cruella.
On Saturday, Caravanserai and their sounds of Santana will have you dancing along with, Cougrzz and the Beer Drinkers and Hell Raisers bands.
The Miss Hollister competition will be featured, too, on stage as a part of the motorcycle rally's major action.
On Saturday July 1st, Mike Corbin is sponsoring the International Master Bike Builders Association sanctioned bike show. And The Shanks, a premier classic rock cover band, will rock the party.
As reported by the Hollister Independence Rally's Facebook page:
Randy Burke of Roadshows, Inc. and legendary Mike Corbin of Corbin Seats preparing for the 70th Anniversary Hollister Independence Rally and figuring the logistics for the International Master Bike Builders Association Corbin Custom Bike Show on Saturday of the motorcycle rally. Photo was taken in front of Johnny's Bar & Grill.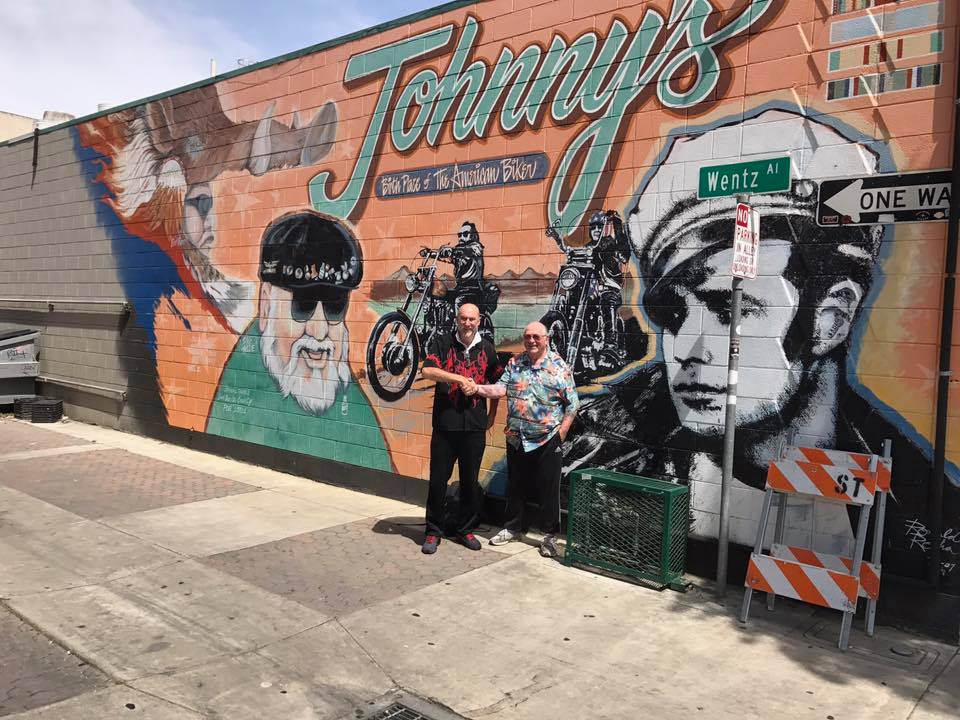 Hollister Motorcycle Rally Lodging
The brand new Marriott's Fairfield Inn & Suites Hollister will be open for business. With 40 suites and 37 rooms you'll be able to stay in a clean comfortable hotel if you make your reservations soon. The new hotel boasts a 968 square foot meeting room, free breakfast and wifi, and onsite free parking. Tip: Get there early to scope out the best parking.